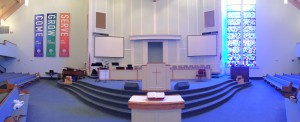 Sunday Adult Bible Fellowships and Children's Classes 9:45 a.m. Coffee is on by 9:30.
Sunday Morning Worship at 11:00 a.m. Children's classes and nursery for all ages.
---
GROW GROUPS: Various times and places. Call the church office if you are interested hosting, leading, or participating in a Grow Group.
Wednesday Evening AWANA and Teens: 6:30 p.m.
Wednesday Mid-Week Service for Adults 7:00 p.m. Pastor Pierpont leads a Bible Study. The service is informal and includes a couple songs and a message from Pastor Pierpont. At the close of the meeting many stay in their pews and pray in small groups.