Sunday School and Church

Sunday Mornings 9:45am – 12:15pm
Explorer's Club (2-3's & 4-5's) – Planting seeds of faith by laying an age appropriate groundwork of basic Bible knowledge. Over the course of four years, students will learn the fundamental biblical events like Creation and truths such as salvation and God's care through lessons, music, crafts, gym, and games.
Sunday Mornings 9:45am-10:45pm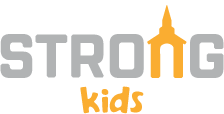 Primary and Middler Depts. (K-6th) –  Encouraging children to obey biblical truths and to love and follow the Savior. Each department has a two-year cycle that allows students to see an overview of God's Word and how it all fits together.
Sunday Mornings 10:50am-12:15pm
Primary and Middler Depts. (K-6th) – Our Primary Church staff uses materials from Answers in Genesis. Our Middler Church (Power Zone) staff uses the Regular Baptist Press program, "It's Grow Time". We also offer a 6th grade Christian Worldview Course, "Reason." Students explore the Christian Worldview and what it means to "think like a Christian". They learn to articulate and defend biblical truths. The curriculum for this course comes from Summit Ministries.
Awana

Wednesdays during the school year 6:30pm-8:15pm
 Classes for children ages 3 through 6th grade
Awana helps children and youth know, love and serve Christ, combining learning with fun to produce lifelong results in kids, families and church.

Features Game Time, Handbook Time and Counsel Time.
Bible-centered lessons and gospel presentations.
Other/Notes
Nursery services are provided for children ages 0-2 during all regular adult services (Sunday 9:45am-12:15pm, Wednesday 7:00pm-8:15pm)
All Evangel staff working in Nursery through Teens have passed a background check.
Your child's safety is paramount to us. We use a check-in/check out system in Nursery through Primary Depts.
We strive to provide a Christ-centered program for children that allows them to explore and learn God's truth in a fun, interesting, and interactive way.