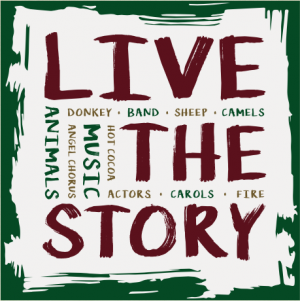 Our Christmas gift to the community!
Come experience our outdoor live nativity on December 9&10. Guided walking tours will take you through the events surrounding the birth of Jesus to the manger in Bethlehem and end inside with a choir and hot cocoa.
This event is entirely free! You can register your group beforehand by sending us an e-mail with the number in your group and desired tour start time. Groups will be limited to 10 people per tour.
Tour times available:
Saturday, December 9 – 5:30, 5:35, 5:40, 5:45, 5:50, 5:55, 6:00, 6:05, 6:10, 6:15, 6:20, 6:25, 6:30, 6:35, 6:40, 6:45, 6:50, 6:55, 7:00
Sunday, December 10 – 5:30, 5:35, 5:40, 5:45, 5:50, 5:55, 6:00, 6:05, 6:10, 6:15, 6:20, 6:25, 6:30, 6:35, 6:40, 6:45, 6:50, 6:55, 7:00